How to Photograph Your Alaska Adventure Vacation and Other Fun Getaways
Simple Strategies for Photographing your Vacation
by Kerry Drager
Are you a seasoned photographer looking to fine-tune your creative eye? Or a novice hoping to break out of the snapshot rut? No matter ... since it's easier than you think to give your vacation photographs a creative jolt. Whether you are planning a San Francisco city escape or an Alaska Adventure Vacation, here are a few ideas to get you started:

Morning's Reflection, Alaska
© Brenda Tharp
All Rights Reserved
Practice Makes Better when on an Alaska Adventure Vacation
Most photographers simply do not shoot enough – yet it's the shorter sessions that prepare you for the longer trips … and the big pictures. Periodic outings around your own yard, neighborhood, hometown, or nearby countryside will help tone up your vision and hone your camera-handling skills.
Advance Planning
In the long run, it is careful planning that leads to superb travel images. For the best odds of getting the best shots, preparation for vacation photography should begin before setting out.
Especially for places new to you, it helps to learn all you can about your destination. Surf the Web for information and photographic inspiration. If you can, also do some old-fashioned research: Consult magazines, newspaper articles, guidebooks, tourism boards, and chambers of commerce.
A long holiday, a weekend or day outing, and even an afternoon shoot all should involve plans of action - although the short sessions may consist of merely a map, a check of the weather and sunset (or sunrise) times, a few notes about possible photo subjects, and a little imagination.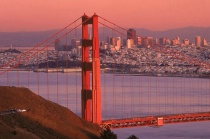 Sundown at Golden Gate 1a
© Kerry Drager
All Rights Reserved
When You Get There
Upon arrival at your Alaska adventure vacation or any other unfamiliar destination, few of us have time to scout out things thoroughly for a day or two before shooting. We usually have to start photographing almost immediately, making it even more crucial to perform advance research and, once on the scene, get a quick feel for the photographic possibilities by taking a short orientation tour of the city or national park.
But what if the photo outing is only for an hour or two? Then I'll still take a few minutes to inspect my surroundings before firing away. As I walk around, I try to image how the landscape or cityscape might appear at different times of the day - including late or early day - assuming, of course, that I have the opportunity to revisit the scene.
On longer trips, my quest for sites and subjects usually includes a stop at the visitor or tourist center to pick up relevant materials and ask about any off-the-beaten-path areas and colorful special events. I'll also browse postcard racks for inspiration. Other local sources of information include bookstores and camera shops.
During my investigations, I carry a map and notebook to keep track of where, what, and when.

Teen Girls at Bodie
© Kerry Drager
All Rights Reserved
'Drive-By' Photos
Capturing meaningful vacation photos demands a thoughtful, deliberate approach. But many people work much too hastily. For example, does the following scenario sound familiar? You arrive at a designated scenic overlook, pull out your camera, and fire off some rapid shots. Then, you're back in the car and off to the next view.
That "ready, aim, fire" attitude is often driven by a rigid goal to bring back a set number of images from a weekend outing or a weeklong trip. But ask yourself: Do I really need to produce a visual "diary," recording every subject I see, every place I visit?
Rather than performing a quick once-over on numerous scenes, strive to document extra-special ones more thoroughly. This quality-vs.-quantity emphasis may lead to a smaller number of images, but more will be worthwhile, fewer forgettable. Some methods to try:
Take the time to think about your subject and to investigate the scene. For stationary subjects, a tripod can help: It not only keeps your photos sharp, it also forces you to slow down, consider the visual options, and carefully compose your image.Double-check the image in your viewfinder: Can you see it as a photo in an album, as a print on a wall, as part of your online BetterPhoto gallery? If you can't "picture" that shot as a finished photograph, stop, and analyze how to improve it – perhaps with another camera angle, perhaps by returning in better light.
Lastly ...
Lastly ...
For shots of the family, your friends, or your other travel companions, perhaps you can enlist one or two others to serve as "official" documentarian of your Alaska adventure vacation or city getaway. They could be in charge of recording the "We were here" and "We did this" images. That will free you up more of your time for your creative photography!



About Author Kerry Drager
To learn more about photography, explore the photography classes offered here at BetterPhoto.