Beyond SnapShots: In Search of Details and Design
by Kerry Drager

Marina Buoy Pattern 1
© Kerry Drager
All Rights Reserved
It's no secret that the world around us is a visually hectic place. As such, it shouldn't be surprising that the most common compositional problem is too much stuff in the photo ... i.e., multiple elements that compete for the viewer's attention. However, our job, as photographers, is to simplify these chaotic scenes.
There's an old "law" in photography that goes something like this: A photo rarely falls short because the subject isn't GOOD enough. More likely, the picture falls short because the subject isn't CLOSE enough. Here's a good shooting "workflow":
First, stop and identify the specific subject that has caught your eye. Next, de-clutter by moving in closer or zooming in tighter, in order to leave out the distracting extras.
During a recent Oregon Coast trip, I found a scene with potential. Check out the "Before/Overall View" snapshot below. I then focused on the graphic-design elements - i.e., colors, lines, patterns, repetition, shapes. See the accompanying "after" images: Marina Buoy Pattern and Fishing Rope Pattern.
Some specifics on these photos:

Marina Buoy Pattern 3
© Kerry Drager
All Rights Reserved
Light
In all areas of photography, light is just as critical to an image's success as subject and composition. An overcast day? Or total shade? Excellent! Soft light can be perfect for working on a small photographic canvas. And for the accompanying photos, I chose the soft light of early morning in order to avoid a harsh and unsightly mix of glaring sunlight and deep shadows.


Depth of Field
With graphic-design scenes, all parts of the composition are of equal importance, as opposed to scenes in which a single isolated subject is the star of the show. For each of the pattern shots shown here, I used a really small aperture (high f/number) in order to attain as much sharpness (DOF) throughout the image as possible.

Fishing Rope Pattern 1
© Kerry Drager
All Rights Reserved
Tripod for Stationary Scenes
A tripod opens up the dramatic, non-flash world of low light without having to raise the ISO to potentially noisy high levels - for instance, in deep shade, at daybreak and sundown, and during twilight time. It makes possible the longer exposures necessary when going for a deep depth of field.
A tripod also helps you slow down and analyze things. Locking your camera into place lets you tweak the composition just a little bit more. By carefully composing your picture at the time of shooting, you'll reach image-quality nirvana - no need to post-crop!
Note: Click on each photo to see the enlarged image, along with the exposure settings.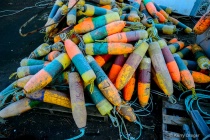 buoy pattern before
© Kerry Drager
All Rights Reserved
Like these ideas?
About Author Kerry Drager
To learn more about photography, explore the photography classes offered here at BetterPhoto.