The Fine Art of Slanting the Camera
by Kerry Drager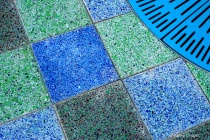 Sidewalk Tile Pattern
© Kerry Drager
All Rights Reserved
You're supposed to keep the camera level at all times, correct? Well, there are exceptions! Used at the right artistic time, a nice tip of the camera can pump up the visual tension by creating great angles and diagonals.
Shooting with your camera askew (so as to change naturally appearing vertical or horizontal lines into diagonals) can be done for a variety of small scenes or big views and with just about any lens focal length.
Like other creative techniques, you won't want to overuse this method. But when the subject calls for it, angling the camera is one fine artistic weapon.

Hotel Graphic Design
© Kerry Drager
All Rights Reserved
Notes on the Photos
- Sidewalk Tile Pattern: I shot this scene on a soft-light day (solid overcast) along the streets of St. Augustine, Florida. The graphic design really caught my attention: the squares of colors contrasted by the circular grate. With a "normal" 50mm lens, I moved in for a tight composition, and then tilted the camera to create the diagonal lines.
- Hotel Graphic Design: Early one morning in Las Vegas, I was attracted by a hotel's repetition of balconies and windows. With a 50mm lens, I moved physically close to the building, and recorded this scene ... a slant of the camera turned the vertical lines into diagonals that lead the viewer right through the composition.
- For both photos, I used a tripod - for two reasons: 1) to get a good image quality; and 2) to help fine-tune the composition right in the viewfinder.
More information...
- These thoughts are from my book co-authored with Jim Miotke: The BetterPhoto Guide to Creative Digital Photography.
- Also check out my online course that I teach at BetterPhoto's digital photography school: Creative Close-ups
About Author Kerry Drager
To learn more about photography, explore the photography classes offered here at BetterPhoto.