Great Light for Dramatic Landscape Photos
by Kerry Drager


© Jim Miotke
All Rights Reserved
(Note: This article is adapted from "The BetterPhoto Guide to Photographing Light" - co-authored by Jim Miotke and Kerry Drager.)

Dramatic light is frequently the byproduct of dramatic weather. Your photographs will benefit greatly if you become weatherwise and work at the weather's edge. This doesn't mean trying to navigate a rain- or snowstorm. But it does mean being ready to dash out when the storm starts to break up and beams of light start to burst through the clouds in a dazzling way.
Watch for clouds casting shadows as they move across the landscape to provide depth, pattern, and texture. If all goes well, you'll be treated to wonderful dancing light shot against a dark and imposing sky. Perhaps you'll see the sun-versus-storm ultimate: a rainbow.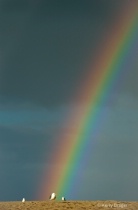 Rainbow & Seagulls - Clearing Storm
© Kerry Drager
All Rights Reserved
Need more on natural light?
About Author Kerry Drager
To learn more about photography, explore the photography classes offered here at BetterPhoto.